There are a lot of whispers about the current housing market resembling the housing recession. The public "feels" the rise in home prices, the rush to buy, multiple offers, and low inventory, thinking a bubble is on the horizon.
My immediate reaction is" No. This is not going to turn into a housing recession or a bubble." This 2004 Arizona Republic begged the question, "How long can prices rise."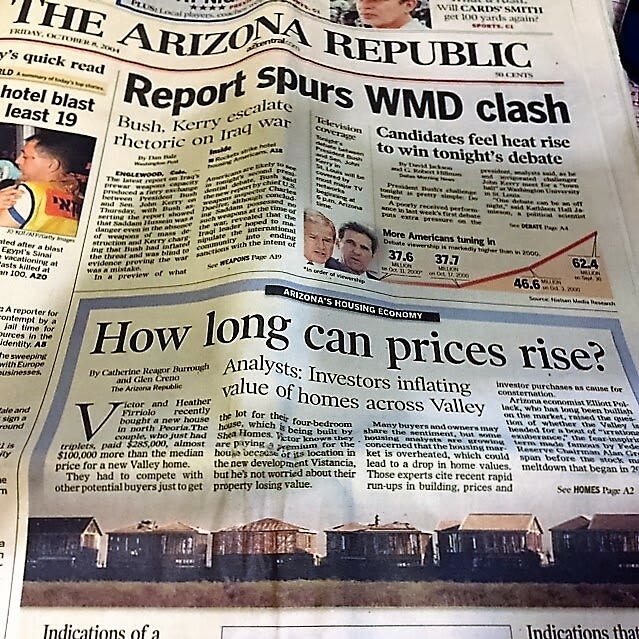 Why we are not going to experience a bubble in real estate in Arizona? We don't have any of the same dynamics that existed in 2005-2006.
Financing
Home buyers must now pre-qualify with a lender and submit documentation to be approved for a mortgage, versus the "fog a mirror" and getting a loan.
The risky sub-prime/negative amortized loans and 100% financing with interest-only payments are no longer offered without documentation to prove income.
In 2004, everyday homeowners became instant investors via home equity lines of credit. Today, rental pools are created for Wall Street investors and Hedge Funds, a bit more sophisticated than the recession investor. This dynamic is contributing to the housing shortage as homes are purchased by iBuyer companies, but put into rental pools versus being re-sold.
Supply
During the recession years, builders stopped buying land and building homes. Builders are now building homes again, but only about 65% of permits are issued versus homes being built in 2005, which doesn't alleviate the housing shortage.
The population has increased since 2005. There's a housing shortage for the buyers who are now ten+ years older with careers and buying their first homes. The supply chain issues are extending build times for builders.
New homes used to take six to eight months to complete in Arizona. Construction completion is now around twelve months, give or take. This is contributing to housing anxiety. Interest rates have been at historic lows, dropping in 2021 below 3%.
Historically low-interest rates fueled home-buying demands. In 2005-2006, rates were 6%. For those with short memories, 3% or less was a dream to lock in a rate and stay put. For the first time in history, new construction was cheaper than re-sale homes during 2005-2006.
Investors were illegally buying homes as primary owner-occupants and selling them at completion, but having to wait for Public Reports. Prices were rising so fast in real estate, that instant profits were an everyday occurrence.
In Arizona, a Public Report must be issued for any parcel that is 6 lots or greater. The State was back-logged with requests for Public Reports, contributing to the demand as prices rose to wait for those reports.
Buyers
Millennials are the largest home buyer in the market today as their careers have taken off.
According to this article,
millennials have been flocking to Phoenix, Gilbert, Tempe, and Peoria, Arizona, further elevating buyer demand. These rank among the top cities out of the 170 cities surveyed. Millennials are looking for great places to raise a family and great neighborhoods. Tempe, home to Arizona State University, is one of the most innovative, sustainable colleges in the US, with features that are attracting students who are now millennial home buyers.
Economy
The transformation from before, during, and after the pandemic has been noticeable. Employment has skyrocketed in the Phoenix Metro Area, elevating the business climate and tax revenue for Arizona.
According to this article

,
300 companies are either moving or interested in moving to Arizona. Innovation and new start-ups are common in the Phoenix area. The city has become known for electric vehicle and battery manufacturing, as well as technology.
If you're looking to relocate to the Phoenix area, make sure to utilize the services of an experienced Realtor
®
who understands the housing market and locations in the area.